** 4-Days WSO (WpThemePlugin Special Offer) With Exclusive Discount & Exclusive Coupon **
UPDATE: This Special Offer Has Expired..
Exclusive 20% OFF Discount - Use Coupon Code "20LEO"
UPDATE: This Special Offer Has Expired..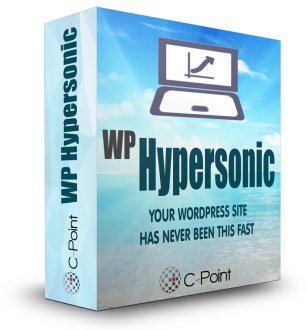 WP HyperSonic is a wordpress plugin that will super-charge the performance of your WordPress sites.. and ultimately brings you more customers because all the people who otherwise would have bounced off and left will now stay and listen to what you have to offer.
If you were to use cloud services to speed up your site, it would cost you the minimum of $20 per month to $200 per month for a business site, or even more for the enterprise solutions.
WP Hypersonic is here to help people who desperately want their site to be fast but just can't afford dedicated hosting or CloudFlare-type services.
The combined effect of 8 high-performance methods it has, allows WP Hypersonic to speed up your website to the degree that no other tool can match.
Here is what WP Hypersonic is going to do for your website...
Reduce the number of server requests
Reduce CPU usage
Reduce the amount of data being sent through
Make WordPress leaner
Make your site safer
Save on bandwidth
...and ultimately speed up your site - dramatically.
Watch the video below of the case study of how we managed to speed up the large, slow website and get the pages to start rendering in just 1.88 seconds (before: 10.39 seconds).
WP HyperSonic Plugin is currently being offered on JVZoo at $37 (see the SALESPAGE proof here), but as 1 of my top VIP customers, you can access the plugin at a MUCH LOWER PRICE :o)
For 4 Days Only, You Can Use Coupon Code 20LEO To Get 20% Discount
And You Will GET All These Bonuses For Free...
Free WSO Bonus #1 - Newsy Premium WP Theme
Free WSO Bonus #2 - 10 Affiliate Review Sites
Free WSO Bonus #3 - WP SwiftPage Plugin w/ MRR License
Free WSO Bonus #4 - SmartBlog WP Theme
Secure Your 20% OFF Discount TODAY & Get All The Bonuses Above For Free - Use Coupon Code "20LEO"
From your friend Leo (BCBiz)

Got Question? Submit Below!